Client
CLIENT X (original name redacted) is a multinational retailer with one of the largest supermarket chains around the world. We were task with revamping how people make purchases in their convenience stores, focusing on an online solution for a IRL issue.
Service Provided
With a team of 2 designers, 3 developers, 1 video editor, and a facilitator, we offered the client a one week rapid prototyping product design sprint where we would work together to narrow the problem, understand it, identify the key requirements, research opportunities, define a value proposition, generate ideas, identify the key features, and finally design and develop a fully working prototype to be tested by the client, improved, and eventually launched.
Goal
Based on the initial brief, we identified the goal we'd like to reach and formulated it in a "how might we" sentence:
How might we create convenience for daily shoppers at CLIENT X by leveraging a digital solution that would bring a seamless, amazing shopping and payment experience to the clients groceries stores?
Issues & Challenges
Coming into the innovation challenge, the group understood the core challenges at hand, and viewed them as an opportunity to shape a new and market-leading solution. These challenges were:
Long Lineups
During busy hours (particularly during EOD), lineups at the convenience stores can grow to a point they deter customers from entering.
Locate Products
Once in the store, customers often spend time locating products & services they need. As these stores are convenience-style (i.e. low selection of products), often customers would feel frustrated when the store wouldn't hold a particular item.
Human Interaction
The current convenience store model is dependant on human interaction for customers to complete transactions. To guarantee lower prices, the client also had to limit the number of staff at each store.
Drivers of Change
What made the client feel the need to come up with a solution?
Economics
The population is shifting to a more collaborative and commercial world, where people service each other directly and expect less friction.
Socio-Cultural
People's lives are becoming busier and more congested, leaving less time for more important activities outside of work.
Technology
Self-checkout terminals and models have began to emerge in retail markets in an attempt to increase throughput in the store environment.
Competition
Close competitor has recently launched a mobile solution in an attempt to grow and maintain customer loyalty.
Personas
After crafting 20+ personas collectively, we zeroed in on one in particular to build around:
Rodrigo
46 years old
Rodrigo is a father of a family of 2, has a house, and stable blue collar job. He grocery shops once a week, but has a frequent need for replenishment items and other small things. He's not always organised and is often fitting immediate needs into his busy schedule. He's savvy with technology and looking for a way to leverage his device to speed up his life.
Segments
The following is a collection of segments who would find immediate value in a more convenient express shopping solution:
Immediate consumption
Single consumer
Workers passing by
Unplanned shopping
Third party vendors
Basic needs
Gourmet & idealists
Families
Seniors
Opportunities
Busy people are provided a quicker and easier way to transact;
Small and immediate purchases are accomplished without human interaction;
People can select, research, and/or buy items without visiting a physical location;
Convenience shopping is provided through easy-to-use technology that integrates with consumer day-to-day activities.
Value Proposition
An on-demand shopping and checkout solution that provides CLIENT X customers with the flexibility and convenience they need to save time on the trivial things in life.
Key Features
Based on idea generation, we defined three main key features for the app: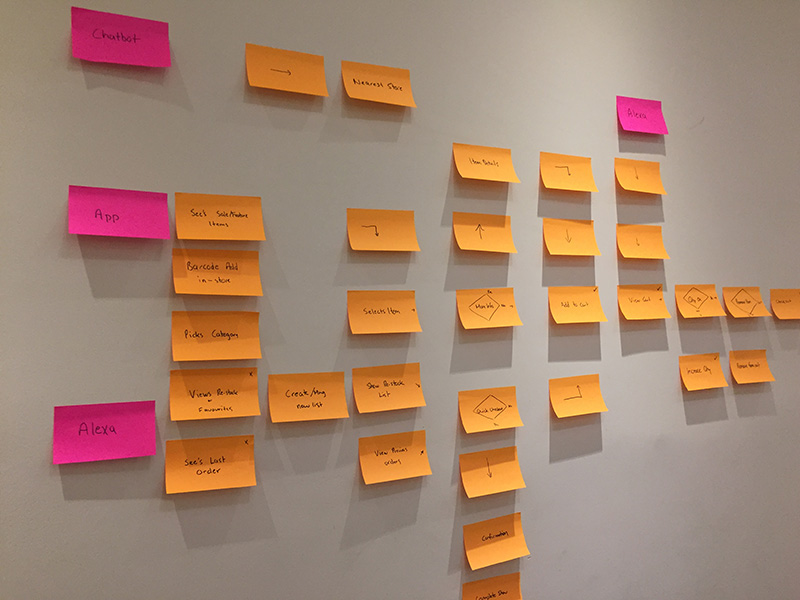 Self Service:

In-app payments
Smartphone barcode scanner
Self-checkout

Distribution:

Pick & weigh
Order & pick-up
Order & delivery

Personalisation:

Profile manager
Customisable baskets
Order history & quick reorder
Unique Differentiator
All competing convenience store models are dependant on human checkout, exposing the customer to queuing and other poor experiences.
Our digital cart manager and human-less checkout solutions provide a quicker, easier way to shop conveniently.
The Prototype
The prototype app designed has two major functionalities, geared towards people that are either (A) at the store and want to self-checkout, or (B) at work and want their groceries delivered or picked-up on their way home.
(A) At the store
Using the new CLIENT X app, customers can visit a store, scan items they want to purchase using an in-app functionality, and proceed to a self-service checkout where their bag is weighed to confirm the products scanned, and can pay in-app with a registered debit or credit card. The self-checkout process could take 20 seconds from arriving at checkout to finalising payment, greatly reducing payment pains.
This solution also removes the need to:
Scan products again at a self-checkout till
Add NFC or RFID tags to individual products
Have client carry a physical payment card (payment information is stored within the app)
(B) At work
Customers can browse the selection of products at their nearest store (or a store they pass by on their way home), purchase and pay for the items, and have them ready for pick-up at a convenient time. The items are then selected by a store employee and safeguarded in a locker. The customer receives a PIN in-app to access their locker, where they can remove their already bagged groceries. The pickup process would be fast and automated, without the need for human interaction.
This solution also removes the need to:
Wait in-store for a employee to pick up their purchase
Queue to pay after picking up their purchase
Conclusion
At the end of the 5-day design sprint, we presented the process, prototype, and use-cases to the clients upper management and the countries convenience store sector president.
Some concerns were raised regarding the need to restructure stores to include lockers, as well as give new training to their employees at these stores. Self-checkout tills would also have to be added (most come with a product weighing feature), as would a up-to-date system of products available at each store.
Although the sector president noted that the cost related to these changes would be great, the end-goals would be financially worth it. With a new way to shop, more people would prefer these new stores over other chains that don't offer such experience, increasing overall sales and market preference, and giving a return on investment within less than a year.
This product has already begun development and should be introduced to market within several months.